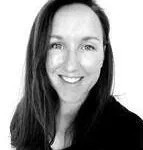 Osteopath, Women's Health Specialist, Mummy MOT
Osteopath, Women's Health Specialist, Mummy MOT
Samantha qualified with a Masters of Osteopathy at distinction from the University College of Osteopathy and is fully trained and licensed to carry out a Mummy MOT. Samantha has experience of treating adults of all ages, from all backgrounds and has a particular interest in women's health.
Adopting a narrative-based approach, which values individuals' stories and experiences as integral to understanding patient's values and needs. Samantha's a thoughtful and empathetic practitioner who collaboratively develops treatment and management plans with patients that work towards their goals.
Employing contemporary evidence and best practice guidelines to inform her practice. Samantha confidently combines and tailors interventions including; joint articulation and soft tissue techniques to relieve pain. Pain science education, self-care, lifestyle and activity recommendations; which aim to empower patients in their recovery, self-manage and mitigate recurrence.
In her spare time Samantha enjoys Pilates, cooking for friends and family, and her most recent creative endeavour is gardening.