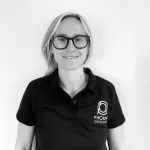 Osteopath, Mummy MOT, Pregnancy and Pediatrics.
Osteopath, Mummy MOT, Pregnancy and Pediatrics
Margherita is a registered Osteopath with the General Osteopathic Council and a member of the Institute of Osteopathy. She graduated from the European School of Osteopathy with a Masters degree in osteopathy.
Margherita has been working primarily in private practice using an integrated osteopathic approach combining a myriad of therapeutic approaches ranging from Western Medical Acupuncture, Athletic Kinesio Taping as well as Rehabilitative Exercise Therapy. She has also had experience in the NHS working as a senior MSK clinician delivering care to a varied caseload of patients alongside local consultants and GPs.
Margherita provides an individually tailored treatment plans using a variety of "hands on" techniques as well as advice on life style activities and exercises to empower patients to take care of their personal well-being. Her treatments goes beyond treating the symptoms of a patient's complaint, she focuses on the treatment of the body as a whole to help patients achieve and maintain optimal health and wellness.
Margherita has a passionate approach to osteopathy having experienced the benefits herself when she was a semi-professional basketball player in Italy. Her sporting background gives her an in-depth perspective on treating musculoskeletal pain and associated disorders. She believes that osteopathy has a strong role in helping athletes enhance their performance and prevent reoccurrence of injury.
She also has a keen interest in the management and treatment of expectant mothers and newborns as she firmly believes that osteopathic treatment can assist the natural physiological changes that both mother and baby will face in the pre-natal and post-natal phases. As a former competitive athlete, she enjoys outdoor training. In her spare time, Margherita is passionate about traveling and she loves to gather with family and friends.